Turner Duncan, Principal of Duncan Miller Ullmann, a full service interior design firm with operations in the United States and China passed away peacefully on September 22, 2013.
Turner is preceded in death by his beloved son, Tad.  He is survived by the love of his life, his wife Kimberley, his beloved children Halle, Tyler and his wife, Kelly, and K.C. and his wife, Ashley, his sister, Nancy Clark, and brother, Richard Duncan, as well as his wonderful grandchildren.
Turner was a highly regarded world leader in interior and architectural design.  Born in Maryland and educated on the East Coast at Haverford Prep and Mercersburg Academy in Pennsylvania, Turner attended Cornell University and obtained his degree from Auburn University.  Turner excelled in all creative endeavors.  He was a gifted artist and designer who earned distinction for projects installed around the globe. He traveled the world, working, learning and bringing new ideas, new experiences and innovation to every aspect of his life.  More than just a passionate designer, he was a genuine renaissance genius, with a zest for life.
Devoted husband, adored father and grandfather, Turner showered his family and friends with love and laughter.  He will be missed by his family, his firm, his colleagues, his beloved puppies and all those fortunate enough to be his friend. His disarming charm, beautiful smile, great hair, and quick wit captivated all.
Donations in memory of Turner Duncan can be made to the A.S.P.C.A. (The American Society for the Prevention of Cruelty to Animals). For information please go to http://www.aspca.org/donate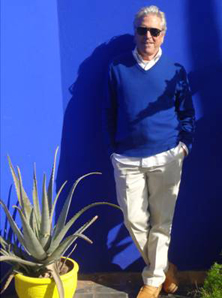 To the man I married: Turner Duncan
because you let me know you completely
because you didn't try to change me
because you have changed me forever
because you saw the good and true in me
because you forgave all else in me
because you are not who I expected to love
because you were just who I needed to love
because you gave me fabulous yesterdays
because you promised me beautiful tomorrows
because I gave you my heart
I will love you always
~ Kimberley
Since the celebration service will take place intimately, we offer Kimberley and the Duncan family our sincere condolences. In order to respect her privacy, we ask that any cards be sent here to our Dallas office: DDMU, 1203 Dragon Street, Dallas, TX 75207
NEWH extends our deepest sympathies to Turner's family and friends.