Ulster Carpets | December 2014
Our New Website is Now Live!
A brand new look for Ulster Carpets Online…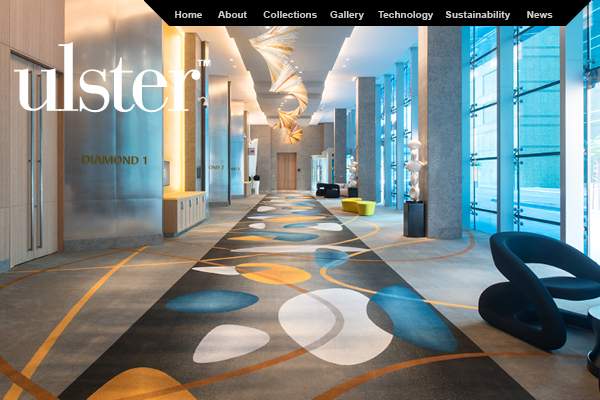 For the last few months we have been working hard to bring you a new and improved Ulster website. We hope you like the results! The site now boasts a slick new look and enhanced functionality allowing you to explore and discover the Ulster offering with ease.
Check out the impressive Gallery which showcases some of Ulster's most prestigious projects from around the world – stunning bespoke carpets which have been manufactured here at Ulster Carpets' headquarters in Northern Ireland with the help of our unique PSYLO™ weaving technology.
All of our Ulster Product Offering is located under the Collections tab, which gives more information on how Ulster can help with your upcoming projects, including our bespoke service, stock ranges and 'the mix' collection. We know that sustainability and the environment is important to our customers so we have laid out our Environmental Policy and our commitment to the environment in succinct downloads which can be saved to your desktop, tablet or smart phone.
A brand new feature is the Ulster 'News' section. Join us here to keep up to date with Ulster's latest projects and to learn what inspires our talented Ulster designers. Also Ulster are now live on Facebook, Twitter, Pinterest and LinkedIn so please follow us and say hello!
Latest News

Ulster Carpets are continuing to invest in a busy Middle Eastern market and have opened a new office and showroom in Dubai within the Jumeriah Lakes Towers….

Graton Resort & Casino

Situated in the rolling hills of Northern California's wine country, the Graton Resort & Casino is truly a full entertainment destination…