Registration is closed. Stay tuned for future Green Voice events!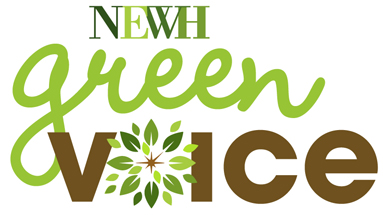 Session One Title: Responsible Sourcing
Date/Time: Sept. 26th, 2014; 11:00 AM – 12:00 PM Eastern Time

Speakers:
Dina Belon, Vice-President of Sustainable Hospitality, NEWH and Director, MindClick Global – Dina will moderator the expert speakers through a fictional project, including design, procurement and delivery.
Dave Lippert, Vice President of Procurement for Marriott International's Architecture and Construction Division (A&C), oversees Procurement and Contracting Services of FF&E (Furniture, Fixtures and Equipment) and OS&E (Operating Supplies and Equipment) for all Marriott brands. Responsible for implementing Marriott's sustainable sourcing initiative with the procurement group.
Sharon Flynn, Director of Prototype Design, Leads the prototypical design and documentation of Wyndham Worldwide's 15 branded hotels, responsible for delivering two LEED Certifiable prototypes for Hawthorne Suites and Wingate Inn brands.  Sharon will discuss the process for meeting Materials and Resources category for LEED.
Session Description:
Creating value for your clients through responsible selections. We will be looking at the process of Responsible Sourcing including Building Materials, Finishes, and Furnishings.  The session will explore how to gather, verify, track and report on the sustainable choices for projects.  Learn how to improve the level of information you have available to make smarter specification and procurement decisions.
Understand the value and know how to write an environmental product data into your specifications.
See examples of Environmental Product Declarations (EPDs) and understand the information that is listed
Participants will understand how to determine the impact of materials, finishes, and furnishings to the health of occupants in a buildings, and be able to read and understand a Material Safety Data Sheet (MSDS) and Health Product Declarations (HPDs)
Session Two Title: Sustainable Design for Guests
Date/Time: September 26th, 2014; 12:30 PM – 1:30 PM Eastern Time
Speakers:
Glenn Hasek, Publisher, Green Lodging News, a weekly e-mail newsletter now reaching almost 4,200 opt-in subscribers, and a website receiving more than one million total visits annually. Green Lodging News covers topics ranging from energy management to water conservation to waste management to green design.  Glenn will be guiding the session.
Adrienne Pumphrey, Global Head of Adoba Eco Hotels & Suites, where she drives the company's overall strategic growth and sustainable investment opportunities.  Adoba Eco Hotel & Suites Brand the revolutionary, innovative brand launch on the anniversary of Earth Day 2010, giving guests the opportunity to Travel with a Purpose, through is commitment to environmental awareness and social responsibility.  Adrienne will be sharing her substantial experience with delivering a guest focused green hotel experience.
A second guest speaker will be joining us… so don't miss out on the surprise.
Session Description:
Making a connection with the consumer. Case Studies of local sourcing, purchasing choices, energy and water conservation efforts and the sustainable messaging that is helping win business. Examples of what is meaningful to guests related to sustainability efforts and how to successfully communicate them and show an ROI both from a cost savings and revenue generation standpoint.
Discuss what areas of sustainable design are making meaningful impacts to hotel guests, and communicating the value proposition of sustainable design investments.
Hear how the sustainable purchasing choices made in the design process can positively impact the revenue of the hotel.  Learn how to articulate a positive story about the careful design & purchasing choices you made for your project.
Understand the impact of your design choices on the community, and gain the tools to support local sourcing for your projects, including good will and Return on Investment.
Learn the methodology for water and energy conservation, and be able to calculate basic energy and water savings.