KOHLER, Wis. – Oct. 4, 2012 – A well known leader in the kitchen and bath industry, Kohler Co. is dedicated to product innovation, technology advancements and environmental efficiency. This year Kohler has once again been recognized by the Environmental Protection Agency's WaterSense program with the 2012 WaterSense Manufacturer Partner of the Year award for the company's efforts surrounding the education and awareness of water issues.
Kohler was the first company to earn the EPA WaterSense Manufacturer Partner of the Year Award in 2008. The company received the Partner of the Year award again in 2009, and was lauded with Excellence Awards in 2010 and 2011.
"Kohler has made great strides in the past year in water conservation, not only in its product offering but also in public awareness and education," says Rob Zimmerman, manager of engineering, water conservation and sustainability for Kohler Co. "Kohler is known for its work in advancing the plumbing industry in technology and design, and water conservation is no different."
One of the initiatives noted by the WaterSense program was the "Wasting Water is Weird" public service announcement campaign that Kohler planned, sponsored and executed with several other organizations in the industry. This campaign was a bold and humorous way to reach consumers with the water conservation message and also included a large social media and web component, helping increase its effectiveness with a larger audience.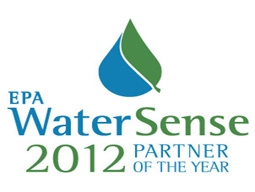 Nancy Stoner, EPA's Acting Assistant Administrator for Water states, "WaterSense is proud to partner with these champions of water efficiency who share our mission to protect the future of our nation's water supply. The 2012 WaterSense Partners of the Year were exceptional in their efforts to support innovative approaches to help people and companies save water and money on utility bills nationwide."
Kohler's efforts to promote water conservation included product placement in several high-profile projects and locations including ABC's Extreme Makeover:  Home Edition; Yellowstone National Park; The House in Innoventions at Epcot, Disney World, Orlando, FL; PUNCHouse, Lisa Ling's personal home focused on sustainable living; and the World Trade Center museum restrooms.
Another initiative called out by WaterSense was Kohler's introduction of the Numi toilet, Kohler's most advanced toilet. The Numi toilet is Kohler's most water-efficient dual-flush toilet and proves that water efficiency can be integrated into luxury products without sacrificing performance or design.
Additionally, Kohler increased its WaterSense labeled showerhead offering by more than double, providing a multitude of new designs to consumers that will continue to help save water.

About WaterSense
WaterSense, the EPA's voluntary public-private partnership program, seeks to protect the future of the nation's water supply by promoting water efficiency and enhancing the market for water-efficient products, programs and practices. Plumbing fixtures and faucets that qualify for the WaterSense label assure consumers of actual water savings and strict performance standards. According to the EPA, WaterSense labeled products have helped Americans save 287 billion gallons of water and $4.7 billion in water and energy bills.
About Kohler Co.
Kohler Co. has a long history of supporting water efficiency and sustainability in products as well as processes. Aligning with organizations and programs like EPA WaterSense, Alliance for Water Efficiency, Alliance for Sustainable Built Environments and U.S. Green Building Council, Kohler has positioned itself as a  sustainability leader in the plumbing industry with educational programs, awareness campaigns, and water-saving products. In recognition of these efforts, Kohler has been awarded four consecutive awards from the EPA WaterSense program.
Kohler Co. offers products that are designed to conserve natural resources while remaining true to a singular quality level of performance and design. Whether specifying plumbing products that help buildings earn LEED® water-efficiency points, reducing facility operating costs or accommodating the preferences of homeowners, the water-saving KOHLER fixtures and faucets address the challenging demands of customers and preserve one of our most precious natural resources. Visit www.SaveWaterAmerica.com for more information about Kohler's water-saving products and its continuing efforts to help drive conservation.